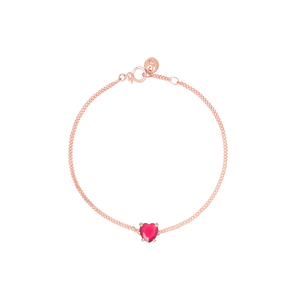 Modello: Bracciale DoDo Cuore

Referenza: DBC3000-HEART-SR09R

Dettagli
Bracciale in oro rosa 9K con un rubino sintetico (ct. 0,6).
Gift Box
Ogni gioiello Burato1969 viene consegnato all'interno di un lussuoso packaging.
Per un regalo ancora più speciale, è possibile impreziosirlo con una dedica scritta a mano.
Shipping & Returns
Acquistare su Burato1969 è sinonimo di sicurezza e trasparenza, che sia attraverso Pay Pal, carta di credito o bonifico bancario.
Le spedizioni sono sempre gratuite sopra i 150 euro.
FIND THE DIAMETER
Diameter is the measurement across the inner width of the ring. You'll need: a ring that fits you and a ruler.
STEP 1
Find a ring that suits you.
STEP 2
Lay ring on top of ruler and measure the widest area inside the ring from inner bode to inner edge. Round to the closest whole millimetre.
TIP
If the ring does not have a circular shape, measure the shortest distance. It is the case of the Circle and the Window rings.
FIND YOUR CIRCUMFERENCE
The circumference is the measurement of the length surrounding the base of the finger. You will need: a strip of paper, a pencil, and a ruler.
STEP 1
Cut a long strip of paper.
STEP 2
Wrap the strip of paper around the base of the desired finger. For a more accurate result, pull the paper as tight as possible.
STEP 3
Make sure the paper is overlapped and pulled perfectly and mark where the paper strip meets.
STEP 4
Measure the length of the paper strip in millimeters. Round up to the nearest whole millimeter.
PRINT THE RING SIZE GUIDE
Are you looking for the size of your next BURATO ring? This guide will help you find the perfect size in no time!
PRINT NOW THE SIZE GUIDE
Print our Size Guide and take your size easily and quickly.
IF YOU WANT TO WEAR RING UPON RING (multiple rings on one finger)
When buying multiple rings to wear on one finger, please consider that the rings should be one size bigger than your regular size.
CHAIN-STYLE RINGS
When placing chain rings, the best way is to gently push the ring along the finger, taking care that it does not twist around to avoid reducing the diameter of the ring. 
ARE YOU UNSURE?
Considering the specific wearability of this type of ring, if you are choosing between two sizes, we recommend choosing the higher size.
NEVER FORGET...
Even though our fit recommendations come from experience, they should only be used as a starting point and the below factors should be considered in each specific case:
• your specific finger shape and your lifestyle habits;
• the possible changes in size that naturally occur during the day or with changing weather conditions.